A letter published on LinkedIn Pulse by Vishal Rajpara, Chief Technology Officer at Casepoint and seasoned legal technology innovator.  
March 11, 2019- It's always a beautiful feeling when a vision becomes reality. It may not come to us often, but it's the feeling that I have as the Chief Technology Officer at Casepoint, with the release of our newly upgraded Casepoint Platform and its featured application, Casepoint eDiscovery. For many years, the goal of everyone in this organization has been to create a single, unified technology solution for the legal industry that streamlines diverse legal workflows by offering a cohesive, integrated set of tools. It's taken a lot of dedication, time, and very focused teamwork, but we've accomplished our goal.
Since I started working in the legal space more than two decades ago, it was quickly apparent to me that there were many inefficiencies in legal processes and workflows. I recognized plenty of opportunities for unified automation to help us do things faster, better, and more cost-effectively.  I developed a firm conviction – which I still hold today – that automation is the key to efficient process management. But automation alone won't solve the problem. At the same time, it also became clear that the proliferation of software applications in response to these inefficiencies was contributing to a highly fragmented landscape, with each "solution" addressing only a small part of the overall problem. Fragmentation needed to be addressed as much as automation did because fragmented automation is inefficient in and of itself.
eDiscovery & legal technology through the past two decades
I have learned a lot about the legal industry over the years. First as a technology innovator, then working in various roles for a legal solutions company and a large consulting organization. Then also as an end user when I worked for a major international law firm. I was incredibly fortunate to work in these diverse landscapes because collectively, they gave me a broad perspective of the industry. It also became the foundation for the long-term vision that has guided me and my colleagues at Casepoint.
From day one, 11 years ago, our goal at Casepoint has been to fill an efficiency void that was apparent across the industry. We were determined to transform the fragmented legal technology landscape by developing a fully integrated, cohesive platform that would have the flexibility to adapt to each organization's unique workflows, and have the scalability to be practical and economical for organizations of all sizes.
Legal technology as an extension of the client
To accomplish this, we realized we needed to think of our company and our platform as an extension of our clients. We needed to develop true partnerships that created a compelling value proposition for all. This is why we take client feedback very seriously and constantly incorporate that feedback into our product development process as we work on new enhancements. The result is something that we believe is unique in our industry: our clients are now able to initiate new projects with our software with little need for paperwork, including self-service if desired, and in some cases they are able to set up operating workspaces and workflows within the same day.
On the foundation of this client-centric philosophy, the Casepoint team has built a culture of innovation that sets us apart and distinguishes our platform. These innovations include: the first end-to-end eDiscovery platform in the cloud, the first integrated Early Case Assessment (ECA) solution, the first integrated Technology Assisted Review (TAR) solution with machine learning, and an advanced email threading tool. We were also among the first to use a SaaS-based model, the first to bring a 100% HTML5 user interface that works on any browser, any platform, any time, and many more. Each of these innovations was developed deliberately and purposefully over the past 11 years to ensure that every application would work together in a single, cohesive platform, within a single user interface. To approach this any other way would completely betray our client-first efficiency model.
Looking ahead to the future of legal technology
Our strategy as a technology provider has consistently been focused on innovating an effective and user-friendly platform to help run a scalable and efficient legal department or law firm. The recent release of our newly upgraded Casepoint Platform expands that concept and now allows law firms and legal departments to integrate a full range of enterprise applications, documents, legal data, and workflows into a single, flexible, extensible platform. The new Casepoint Platform is a fully integrated, enterprise-scale application with its development and deployment environment built upon web APIs and an N+1 scalable architecture.
We have been able to accomplish this by listening carefully to our clients, establishing a clear, long-term vision, and having the fortitude to maintain that vision in the face of massive changes to the legal technology landscape. Apart from our technology, we have built an organization and culture that aims to uplift and empower individuals, allowing them to explore and give life to their innovative ideas. We are proud of what we have accomplished together with the help of our clients and our team. All of us at Casepoint sincerely believe that our new platform and workflow solution represents the future of the industry.  
---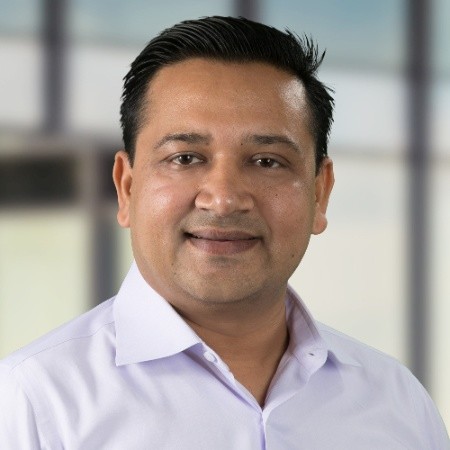 Vishal Rajpara is the co-founder and Chief Technology Officer of Casepoint. He has always had a vision for transforming disjointed workflows in eDiscovery with more efficient and seamless solutions. Vishal's experience in the legal space spans more than two decades; prior to Casepoint, he has worked in AM LAW 100 firms, such as Crowell & Moring LLP, and legal technology solution consulting companies, such as FTI Consulting. You can connect with him on LinkedIn.