Part II
The best way for organizations to respond to new privacy-related regulations—and the resulting surge in consumer data subject access requests (DSARs)—is by utilizing advanced legal technology solutions. As we highlighted in the first part of this blog series, responding to DSARs can be a huge drain on financial and personnel resources. Organizations have to search for precise instances of interactions, transactions, or personal information within a short time frame, often across many different internal systems.
Without effective automation, responding to the growing number of DSARs could have a serious impact on an organization's bottom line—but the technology has to include certain functionality if it is to solve this complex and costly challenge. The solution needs to be collaborative, intuitive, feature-rich, and comprehensive if companies are to respond effectively and defensibly while containing costs. 
Casepoint's platform offers key benefits that enable organizations to manage DSARs by mitigating costs and increasing efficiency. 
Here are five key features required for handling DSARs, and how Casepoint's Legal Discovery Platform delivers the best business results for organizations seeking to manage increasing DSAR responses.
1) Collaborate Effectively in a Secure, Cloud-Based Environment
For most DSARs, time is of the essence—responses are usually required within 30 days. This places a heavy burden on the teams who are under the gun to find the right data, organize data, and prepare data for the DSAR response. Effective real-time collaboration between all teams involved is vital in order to stay on track, meet deadlines, and avoid oversights or duplication of work.
Casepoint's cloud-based technology optimizes teamwork across the organization. Our legal discovery platform offers access to an unlimited number of users in a single secure cloud environment. Easily configured role-based security and permission settings enable productive teamwork among users in different departments and diverse locations. Secure, friction-free collaboration in the cloud leads to faster, more defensible holds and collections. Teams can quickly connect to and upload data from cloud repositories and start reviewing faster.
2) Track DSARs in Casepoint's Matter Management App and Legal Hold Module
Another priority for managing DSARs is to track data through its lifecycle, from collection and processing to retention or removal, all while ensuring defensible collections. The best way to achieve this goal is to use a centralized cloud repository—a unified, secure, end-to-end solution for collections and processing and on to review and production.
With data tracking and defensibility in mind, Casepoint has included feature-rich data mapping in the Matter Management App within our platform. Robust matter mapping helps clients create and refine workflows, monitor progress, and ultimately save effort and money. Powerful artificial intelligence technology accelerates the discovery of the most relevant data and allows teams to investigate faster, incur less risk, and respond more rapidly to DSARs.
Our integrated Legal Hold module is the perfect tool for managing responses to data requests and for data management. Organizations can create and manage legal holds within a single powerful platform for end-to-end legal discovery. With Casepoint, it's easy to upload data from cloud-based data repositories and take action more quickly, securely, and defensibly.
Our solution is also able to keep files, including all relevant data, in their native format, supporting defensibility in the event of litigation or further inquiry.
3) Utilize Analytics and Bulk Search for Accurate, Accelerated Response
Advanced analytics transforms the economics and effectiveness of a DSAR response, saving countless hours of expensive human review time. Using our artificial intelligence and machine learning technology, legal teams can rapidly, accurately, and defensibly identify the most relevant documents and cull non-relevant data automatically with minimal intervention.
 If you are faced with tens of thousands of documents for review, you need advanced analytics to cull that initial review set and refine the results according to relevance. The predictions generated by Casepoint's AI, bulk search and analytics capabilities in the course of investigations, and other document-intensive review projects routinely save thousands of dollars in review time and dramatically accelerate workflows and processes. In a recent project, for example, we were able to reduce the review set of 60,000 documents to less than 1,800 documents, representing a 97% cull rate.
 These capabilities and more are showcased in our AI-powered analytics solution, CaseAssist. It has a vast breadth of powerful features and gives users more insight and control over the analytics process with enhanced visualization capabilities and configuration templates. You can also access a multitude of automated reports for data and review management in our dashboards or use our Report Builder to customize a report to your own specifications.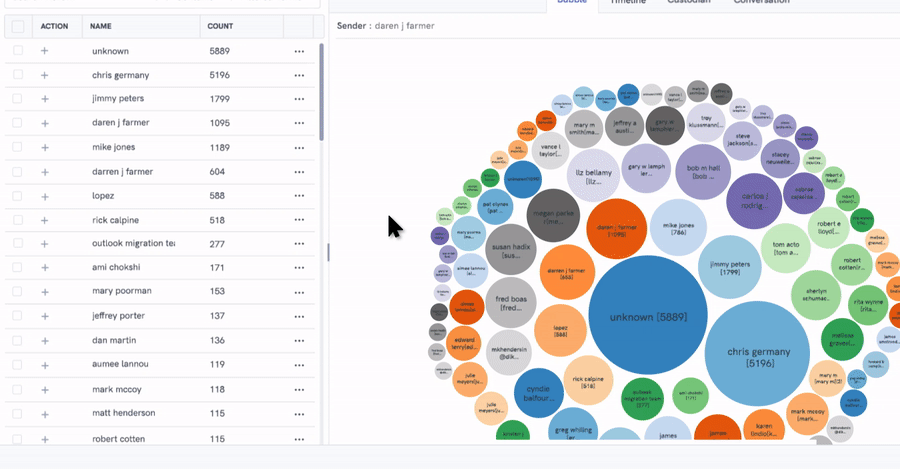 4) Locate Relevant Data with Entity Recognition
Entity recognition helps organizations locate personally identifiable information (PII) efficiently and effectively and is a vital function for DSAR responses. Our product suite provides entity recognition as an integral, automated functionality. The technology seeks to locate entities mentioned in the text and classify them into predefined categories, helping users save valuable time. A few examples include Social Security Numbers, phone numbers, and more. 
5) Customizable Productions Allow for Exports or Deliverables in Multiple Formats
DSAR responses require data to be produced properly for different requesting agencies. We, therefore, have included functionality in our solution that allows you to create productions in various formats, adjusting details as required for each separate production. For example, you can decide whether you want to prepare PDF files or Native files for delivery, or a compressed file (e.g., ZIP) or uncompressed files for delivery. 
Casepoint's automation and data analytics help you respond faster to DSARs, ultimately saving valuable resources, such as time and money. One of the most robust legal discovery solutions available, Casepoint offers transparent pricing, superior ease of use, and maximum flexibility for customization.

Sign up here for a no-strings-attached demo to see it in action.