Security Informs Everything We Do
Casepoint was the first eDiscovery cloud solution to achieve both FedRAMP and StateRAMP Authorization to support our federal and state agency clients. Casepoint is the only Legal Hold and eDiscovery cloud solution to achieve Department of Defense Impact Level 5 (IL5). We continuously meet rigorous government security requirements with the support of our dedicated implementation team, client services team, and user adoption team.
We've Built and Refined Our Solution Specifically for Government Workflows
As part of our product release and enhancement process, we derive almost 70% of our product feature updates directly from user insights. Our dedicated team creates configurable workflows for government agencies' unique data review needs. Over time, we've built our solution to support the growing number of government use cases, including Litigation, Investigations, FOIA requests, Congressional inquiries, and more.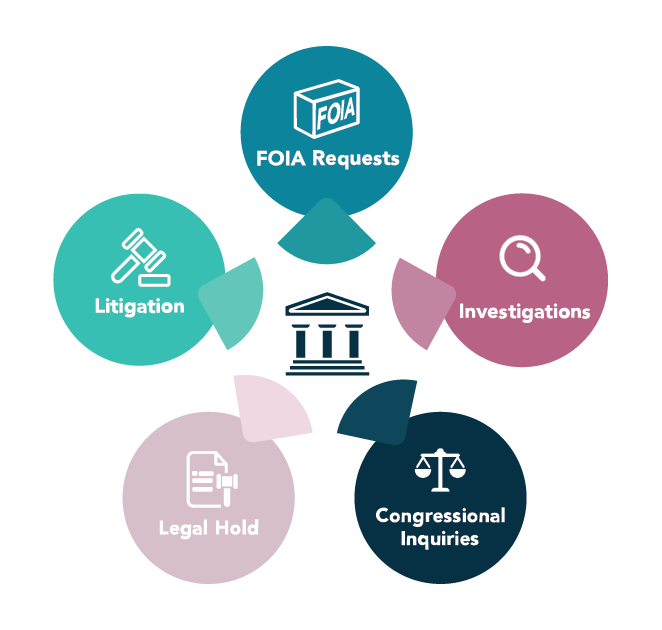 Casepoint's Dedicated Government Team Partners With Top Federal Agencies
Our experienced Government team understands the nuances of Government implementations and agency workflows. Top U.S. federal agencies have chosen Casepoint to reduce costs, streamline workflows, and leverage self-service features. Casepoint's dedicated implementation team creates configurable workflows and solutions specific to agency needs. Casepoint supports critical agency missions to protect national security, safeguard financial institutions, ensure the right to a defense, sustain healthy forests, provide top-tier services to veterans and their families, and improve the health and well-being of Americans.

Casepoint Hosts the Most Mission-Critical Data in the Industry
Due to the sensitive nature of government data, in addition to the ever-increasing data volumes and complex file types, it has never been more important to trust your eDiscovery provider. Casepoint has the highest volume of mission-critical data in the cloud compared to any eDiscovery provider. We are contracted to host up to 1.5 petabytes of data. Casepoint was also the first eDiscovery cloud solution to process over 300 terabytes of data for any single government agency, from on-premise to cloud migration. When we say powerful data processing, we mean it.