Outside counsel was once solely synonymous with the role of the legal advisor, but there is an evolving corporate appetite for more services that are precisely tailored to their individual business needs. It has become necessary for outside counsel to develop new knowledge, skills, and abilities (KSAs) to support their roles, to better address the demands of modern clients, and to manage growing, symbiotic, and cross-functional responsibilities. 
Companies are evolving how they do business, create content, and deliver products and services. They are looking for partners that are also evolving. In addition, they are collaborating more with their vendors and services providers to find efficiencies and reduce waste — including legal services. This trend toward more efficient operations reflects the uncertainty of our current economic environment and the rapid rate of change in how companies operate. To remain competitive, law firms have to demonstrate that they are able to drive value with fewer resources.
Today's clients need to be able to understand exactly what they are paying for and have their expectations met for delivering that value on a lean budget. Getting clarification of the specific roles and services being offered by their legal providers will make it easier for corporate clients to make informed decisions that align their business needs as well as their budget. Lawyers who are not advancing their skill sets and tech stacks to demonstrate they are evolving in the same way that their core customers are evolving, will be at a disadvantage.
The ones who adapt their skill sets to the evolving legal services marketplace will be positioned to deliver more value to their clients. To better understand how law firms can deliver this value, let's explore the eight key roles of outside counsel.
The 8 Roles of Outside Counsel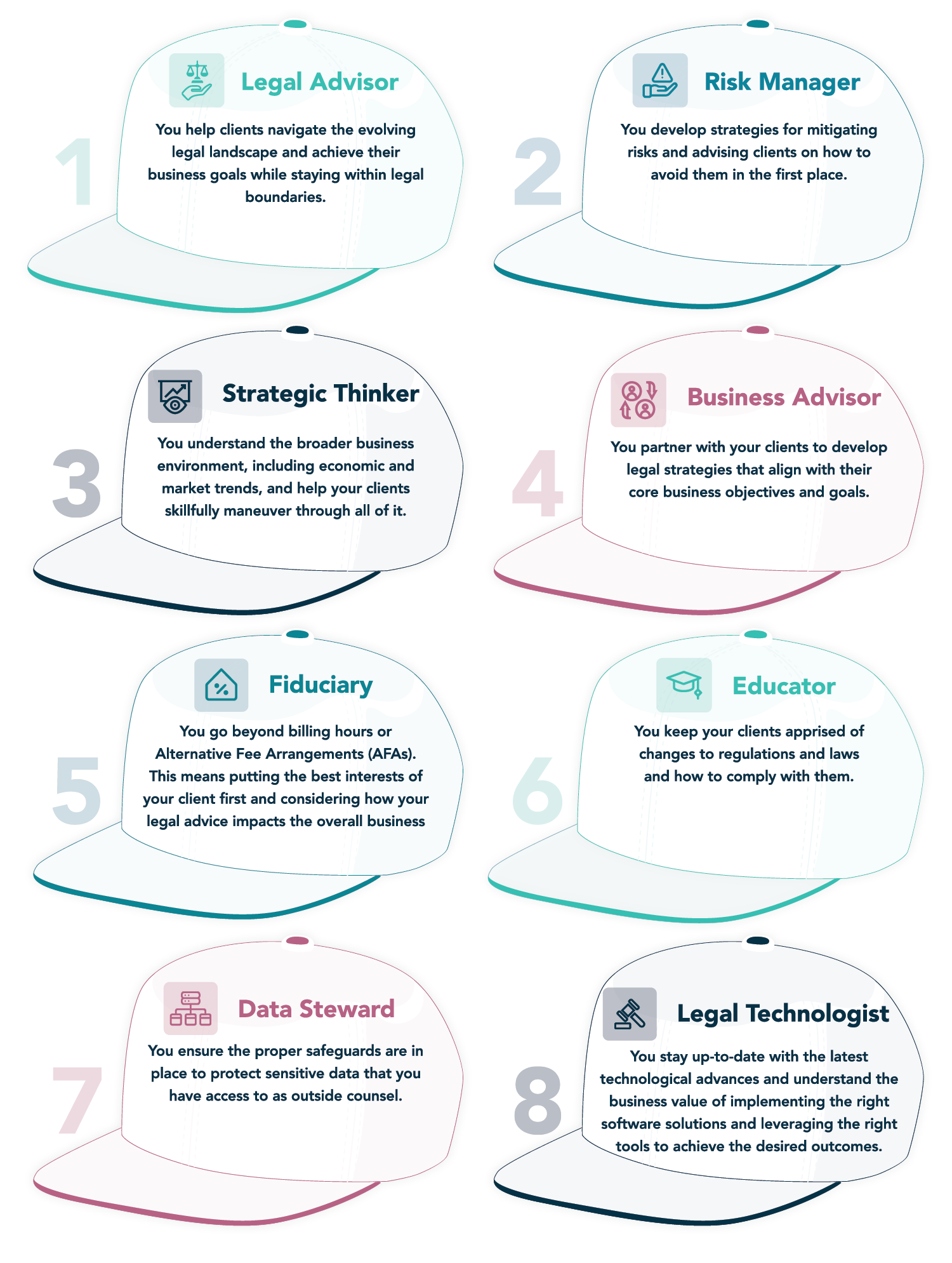 Legal Advisor
Legal Advisors help clients navigate the nebulous legal landscape and achieve their business goals within the boundaries of the law. Legal responsibilities have had to expand for intellectual property protections following the introduction of disruptive technologies like AI or ChatGPT, which have forced new interpretations of existing IP laws and will likely require entirely new legislation to adequately address the ethics and scope of these new generative AI technologies in the near future.
Companies have required more help in general with maintaining compliance amid the increasing regulatory oversight of corporations — especially for businesses promoting their environmental, social, and governance (ESG) values. ESG metrics are a complex system of rating a company's beneficial contributions to the environment or its surrounding community and even factors in how well a company governs its employees. These ESG ratings are used by some investors to determine a company's true value, but ESG metrics are often contradictory, which has invited additional government scrutiny in recent years. 
While some remote workers have returned to the office, many continue to work from home in countries all over the world each with their own tax implications, employment laws, and immigration laws, which have become a massive responsibility for legal advisors to manage. 
Risk Manager
In this role, you develop strategies for mitigating risks and advising clients on how to avoid them in the first place instead of taking a reactionary approach. Risk management has always been a central mission for lawyers advising clients. The legal industry in general is risk-averse, which can make it slower to adopt the technology needed to be competitive against other more advanced firms who are providing risk management services and solutions.. 
It will be important to be able to strike a precise balance between avoiding unnecessary risks and taking informed risks on new technology that may carry the potential to disrupt the industry for the better. Risk managers will commonly deal with threats to a company's reputation, but they need to be able to measure the threat playing out against the payoffs of cost and time savings for preventive measures. Another pain point for modern companies is managing customer privacy which has become a major liability as the cost of cybercrime reached an all-time high during the pandemic.
Educator
You keep your clients apprised of changes to regulations and laws and how to comply with them. It is not just enough to have one member be aware of compliance parameters as communities continue to push for legislative changes ranging from healthcare reform to wage increases and reducing the gender wage gap. Rather, every member of the team should have an essential understanding of regulations so they can all be good stewards of compliance in the company from the top down. 
Involving everyone in the company in training and development will not only improve compliance or reduce vulnerabilities that cybercriminals can exploit but will also make the company more desirable to work for. According to a study by IBM, employees who do not feel they have a path for developing at a company are twelve times more likely to leave.
A few of the most impactful industry regulations that team members should be aware of include:
GDPR –

General Data Protection Regulation

: The European Union's new set of data privacy laws designed to protect and secure personal data of consumers or businesses that operate in the EU or trade with them. 

CCPA –

California Consumer Privacy Act

: The CCPA went into effect in early 2020 which established new privacy rights for California residents that businesses looking to operate in the state must adhere to in order to avoid fines. 

CPRA –

California Privacy Rights Act

: The CPRA is an amendment to the CCPA which was passed later in 2020, but only went into effect starting in 2023 with the ability to retroactively apply through all of 2022 as well. 
This list of regulations is not exhaustive, but demonstrates the complexities of managing compliance when new laws and amendments go into effect. This makes it essential to have someone responsible for researching these nuances of delays in legislation and other detailed stipulations that can apply retroactively which can open a company up to liability if not managed properly.
In addition to regulatory education, it also falls on attorneys to educate their clients on the best way to achieve a positive legal outcome in terms of how services are rendered. In this sense, lawyers are educators in legal processes, technology, and strategy. 
Business Advisor
You partner with your clients to develop cutting-edge legal strategies that align with their core business objectives and goals. This role requires you to become a student of your client's business from their guiding philosophy to their corporate structure and production process in order to reveal potential vulnerabilities or inefficiencies in the pipeline. Instead of waiting for an investigation or litigation over a faulty product or questionable business practice, this role is more proactive. As a legal business advisor you consult regarding the legal and economic costs or benefits your clients will encounter as they embark on a particular strategic path. 
Lawyers as business advisors on internal operations are becoming key in helping companies establish a thorough set of rules by which to govern the company that are designed to protect it from liability and reputational harm.
Companies guided by a strong business philosophy and clearly defined goals that their employees believe in can increase loyalty. Better retention with loyal employees is worth investing in since replacing a good employee can cost twice their base salary in lost productivity and training their replacement.
Data Steward
You ensure the proper safeguards are in place to protect sensitive data that you have access to as outside counsel. Cybercriminals have increasingly begun targeting sensitive company data to hold for ransom with the average ransomware attack costing $4.54 million, making it critical to have a data security strategy that includes restricting access to information to essential parties only and promoting password hygiene practices for those who do have access to restricted company information.
Many firms maintain copies of their clients' data, and they have to be able to pass stringent security requirements in order to meet the basic security requirements in a "big data" world. As a data steward, lawyers need to be constantly vigilant to cyber threats internally and externally. 
Legal Technologist
You stay up-to-date with the latest technological advances in the legal industry and understand the business value of implementing the right tools to achieve desired outcomes. You identify inefficiencies and challenges within legal workflows and design technology-driven solutions to streamline processes. You aim to automate repetitive tasks, improve data management, enhance document review and analysis, and develop tools for better collaboration and communication.
While you do not need to be a computer scientist, you must understand how to calculate the business value of introducing certain technological updates. 
Strategic Thinker
You understand the broader business environment — including economic and market trends — and are able to help your clients skillfully maneuver through all of it. It is all too easy to get tunnel vision when the focus is drawn to the daily tasks of any business, but that is why many of them seek outside counsel to advise on macroeconomics and other industry trends for tackling complex procedures such as their Management's Discussion and Analysis of Financial Condition and Results of Operations (MD&A) disclosure.
Fiduciary
You go beyond billing hours or alternative fee arrangements (AFAs) and prioritize cost saving methods — including legal costs — by implementing more efficient technology that can do more with less resources. This means putting the best interests of your client first and considering how your legal advice impacts the overall business strategy. Inflated legal costs are simply becoming untenable for businesses that are looking to cut costs amid rising economic uncertainty. At the same time, corporate clients are expecting their legal counsel to provide even more value at a fraction of the cost.
Conclusion
Ultimately, it is impossible to maximize value for clients without applying innovative technology to boost productivity, but failing to use the right tools or technology can result in your firm overextending its resources and under-delivering on promises to the client. Leveraging the wisdom Casepoint has to offer in combination with our end-to-end eDiscovery platform are just some of the tools at your disposal to help develop these eight essential roles at your firm and elevate your offerings to meet the new standards of modern clients on a budget. 
Download our whitepaper today to learn how firms like yours can leverage proven industry innovations and deliver even more value to your clients.