If one thing was evident at Legalweek 2023, it's that the pace of innovation in legal is only getting faster and the industry can't afford to operate with outdated technology and processes anymore. 
I joined thousands of legal professionals at the Hilton Midtown in NYC for Legalweek to learn, network, explore emerging trends, and gain new tools to get legal business done. Here's what jumped out to me on legal tech and innovation at Legalweek 2023.
This year's program featured new session formats designed to increase audience engagement and encourage interaction. My colleague, Jessica Robinson, Vice President of Operations at Casepoint, moderated a very engaging session titled "What You Don't Know Will Hurt You: Effectively Conducting Investigations in a Highly Regulated Environment." 
Kristin Meister (Litigation Counsel), Lesley Marlin (Associate General Counsel, Labor & Employment at FINRA), and Terence Leong (Senior Counsel, Litigation at Compass) shared great insights, particularly on how to define and address internal and external investigations. Here are a few pics from the session!
New technology — particularly generative AI — dominated much of the conversation at Legalweek. It was brought up in almost every discussion, especially those on innovations in tech.
Generative AI

The past year saw a surge in the growth and sophistication of commercially available generative AI tools such as ChatGPT. Microsoft debuted the new Bing search engine backed by an upgraded version of the same technology that underpins OpenAI's ChatGPT. Google more recently launched Bard, the search giant's counter to ChatGPT. Some experts have even called it a "tipping point for AI."
Those in attendance at Legalweek 2023 had plenty of opportunities to dig into and dissect these nascent technologies.
Katie Orr, the global head of practice innovation at Orrick, observed in a legal services delivery discussion how more law firms and corporate legal departments are finally starting to embrace the adoption of new technologies, such as ChatGPT.  "There's been a widespread realization within law firms, especially now that they are more resource-constrained, that repeat work needs to be minimized and made more efficient with tech, to free up space to focus on higher value work," she said.
My colleague, Jessica Robinson, Vice President of Operations at Casepoint, noted the importance of not just adopting new technologies, but implementing the right technologies in the right way.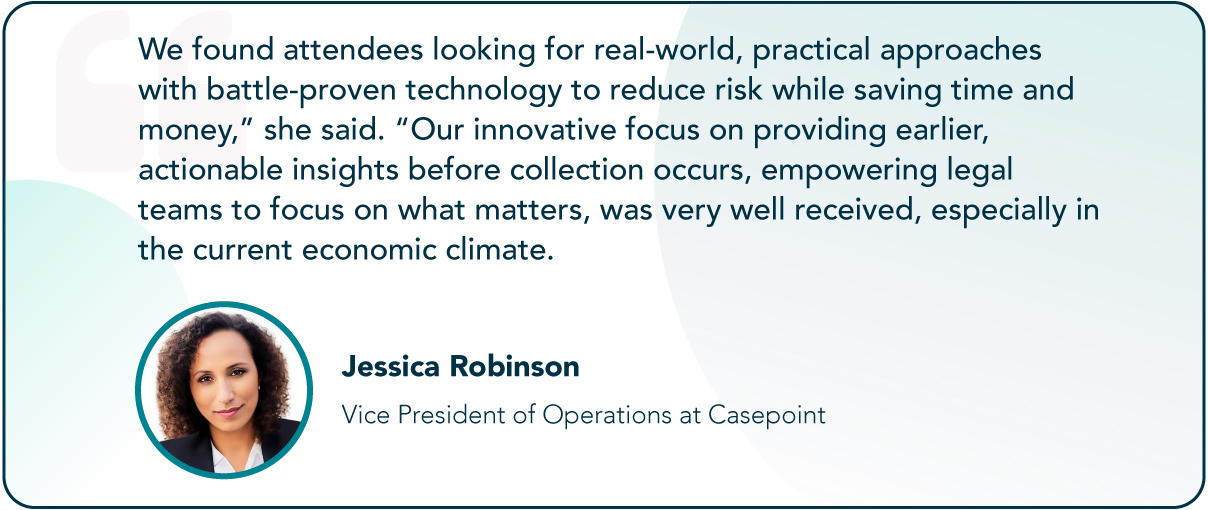 Listen to Law.com Editor-in-Chief Zack Needles interview Robinson for the "Legal Speak" podcast here. They discuss how generative AI could increasingly factor into the legal profession and much more.
Modern Data Demands
It's no secret — more corporate data lives on the cloud than ever before. And the number of sources from which corporations collect data has exploded. Unsurprisingly, the subject of modern data demands continually surfaced at Legalweek. 
At Casepoint, we're always looking to ease these modern data demands for our customers. That's why we're dedicating our time to and investing in advanced product features, particularly around cloud connectors and integrations. For instance, the Casepoint platform can now connect directly to Microsoft 365, Teams, Slack Enterprise, Box Enterprise, Google Vault, and others. We'll continue to pay close attention to how the data landscape shifts in the coming months, and evolve our product offerings to meet these ever-changing needs.
Product Releases
In addition to AI and big data, new products and product upgrades were talk of the town at Legalweek. 
We announced the release of an exciting upgrade to our industry-leading legal hold solution to meet the evolving needs of our corporate and government clients. The more advanced, faster, and more efficient Casepoint Legal Hold further streamlines and accelerates the legal hold process across roles and departments. 

Casepoint Featured on Live From Legalweek Podcast!
While at Legalweek, David Cowen of the Cowen Group, interviewed James Lasson, Casepoint's Vice President of Marketing, for the "Live from Legalweek" podcast. They discussed the importance of networking and mentorship, what sets Casepoint apart in a crowded legal tech industry, and much more.

Listen to the full interview here:
It's an exciting time to be in legal tech, and we believe we're on the cusp of some monumental changes. We'll be paying close attention to how the broader conversation unfolds in the coming weeks and months. Above all, we'll continue to partner with the top law firms, corporations, and government agencies to help them skillfully maneuver the evolving legal landscape. 
Missed us at Legalweek? No problem! Get in touch with the Casepoint team to learn about all of the latest advancements in our industry-leading Legal Hold and eDiscovery technology.