Prestigious annual award recognizes companies driving innovation in the global legal industry.
TYSONS, Va., November 16, 2023 – Casepoint — the industry leader in legal discovery technology for litigation, investigations, and compliance — today announced it is the recipient of the 2023 "eDiscovery Innovation of the Year" award for the second year in a row in the 4th annual LegalTech Breakthrough Awards program.
The LegalTech Breakthrough Awards program conducts the industry's most comprehensive analysis and evaluation of the top technology companies, solutions, and products in the legal technology industry today. This year's program attracted more than 1,500 nominations from over 12 different countries throughout the world.
Casepoint was also recognized by LegalTech Breakthrough — a leading independent market intelligence organization that evaluates and recognizes standout legal technology — with "eDiscovery Innovation of the Year" in 2022 and "Predictive Analytics Solution of the Year" in 2021.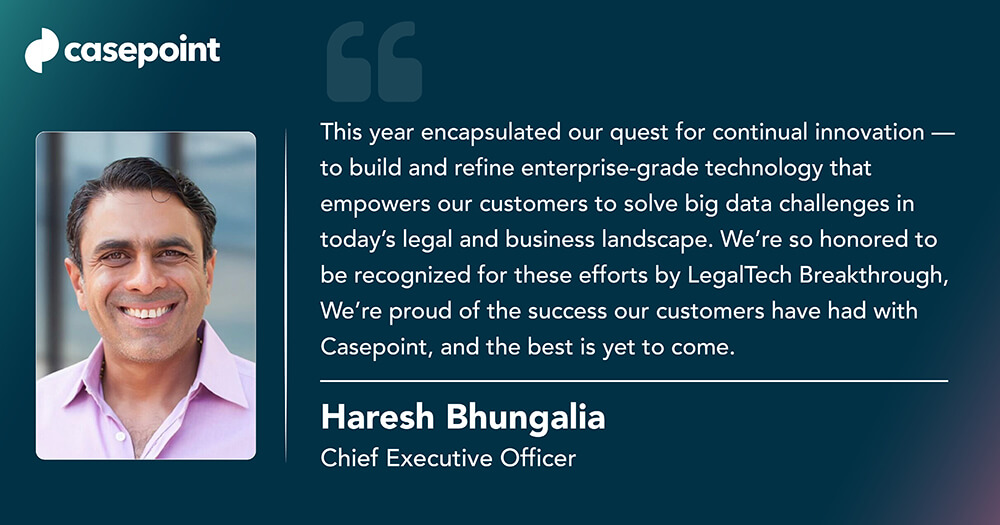 The awards committee noted Casepoint's commitment to integrating advanced technology across the entire data discovery lifecycle.
"We're thrilled to award Casepoint 'eDiscovery Innovation of the Year' as they have achieved the most streamlined, intuitive, and user-friendly iteration of their platform," said Bryan Vaughn, Managing Director of LegalTech Breakthrough Awards. "This past year, the company has doubled down on its efforts to refine its technology and surpass its customers' expectations with cutting-edge innovation including powerful built-in AI, advanced analytics capabilities, various cloud connectors, and more."
One of the most impactful additions to the Casepoint Platform over the last year was Casepoint FileStore™, a cloud-based data storage and staging solution that enables government agencies, corporations, and law firms to move data seamlessly between an eDiscovery workspace, storage, and staging.
Earlier in 2023, the company introduced ChatViewer, a product that transforms the review process for chat messages, including those from cell conversation apps and enterprise collaboration tools such as Slack.
Beyond its new product launches, Casepoint enhanced its platform with a more streamlined navigation menu; an added emphasis on AI-driven Data Stores; and the ability for administrative users to seamlessly navigate between workspace-level applications and organization-level applications.
Casepoint also released an upgrade to Casepoint Legal Hold to improve automated user communication and provide custom fields for unlimited configuration as well as an improved ability to pose dynamic, logic-based questions. The upgrade included enhancements to Casepoint's cloud collection capabilities as well.
Lastly, Casepoint became the first cloud-based Legal Hold and eDiscovery software solution to achieve StateRAMP Authorization in 2023. The achievement adds to an already impressive list of security and compliance requirements, including first to achieve FedRAMP Authorization and Department of Defense Impact Level 5 Authority to Operate.
To learn more about Casepoint's innovations or to receive a demo, contact Casepoint's team here.
About Casepoint
Casepoint is the legal technology platform of choice for corporations, government agencies, and law firms to meet their complex eDiscovery, investigations, and compliance needs. Powered by cutting-edge AI and advanced analytics, Casepoint helps teams cut through large volumes of data to quickly identify insightful and actionable information. Casepoint's secure and scalable cloud-based platform is designed to help organizations take control of their data and processes to maximize efficiency, mitigate risk, and lower overall legal spend. Casepoint's easy-to-use and intuitive interface provides legal hold, cloud collections, powerful data processing, advanced analytics, artificial intelligence, and review and production.
About LegalTech Breakthrough
Part of Tech Breakthrough, a leading market intelligence and recognition platform for global technology innovation and leadership, the LegalTech Breakthrough Awards program is devoted to honoring excellence in legal technologies, services, companies and products. The LegalTech Breakthrough Awards program provides a forum for public recognition around the achievements of LegalTech companies and solutions in categories including Case Management, Client Relations, Data and Analytics, Documentation, Legal Education, Practice Management, eDiscovery and more. For more information visit LegalTechBreakthrough.com
Tech Breakthrough LLC does not endorse any vendor, product or service depicted in our recognition programs, and does not advise technology users to select only those vendors with award designations. Tech Breakthrough LLC recognition consists of the opinions of the Tech Breakthrough LLC organization and should not be construed as statements of fact. Tech Breakthrough LLC disclaims all warranties, expressed or implied, with respect to this recognition program, including any warranties of merchantability or fitness for a particular purpose.
Media Contact